6. Geometry Editor¶
6.1. Introduction¶
The Geometry Editor is a drawing CAD that allows you to edit a FlatCAM Geometry Object or create new ones from scratch. This provides the ultimate flexibility by letting you specify precisely and arbitrarily what you want your CNC router to do.
6.2. Creating New Geometry Objects¶
To create a blank Geometry Object, simply click on the menu item Edit→New Geometry Object or click the New Blank Geometry button on the toolbar. A Geometry object with the name "New Geometry" will be added to your project list.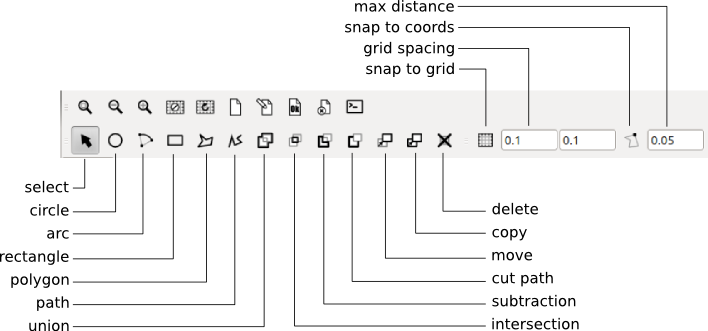 6.3. Editing Existing Geometry Objects¶
To edit a Geometry Object, select it from the project list and click on the menu item Edit→Edit Geometry or on the Edit Geometry toolbar button.
This will make a copy of the selected object in the editor and the editor toolbar buttons will become active.
Changes made to the geometry in the editor will not affect the Geometry Object until the Edit→Update Geometry button or Update Geometry toolbar button is clicked. This replaces the geometry in the currently selected Geometry Object (which can be different from which the editor copied its contents originally) with the geometry in the editor.